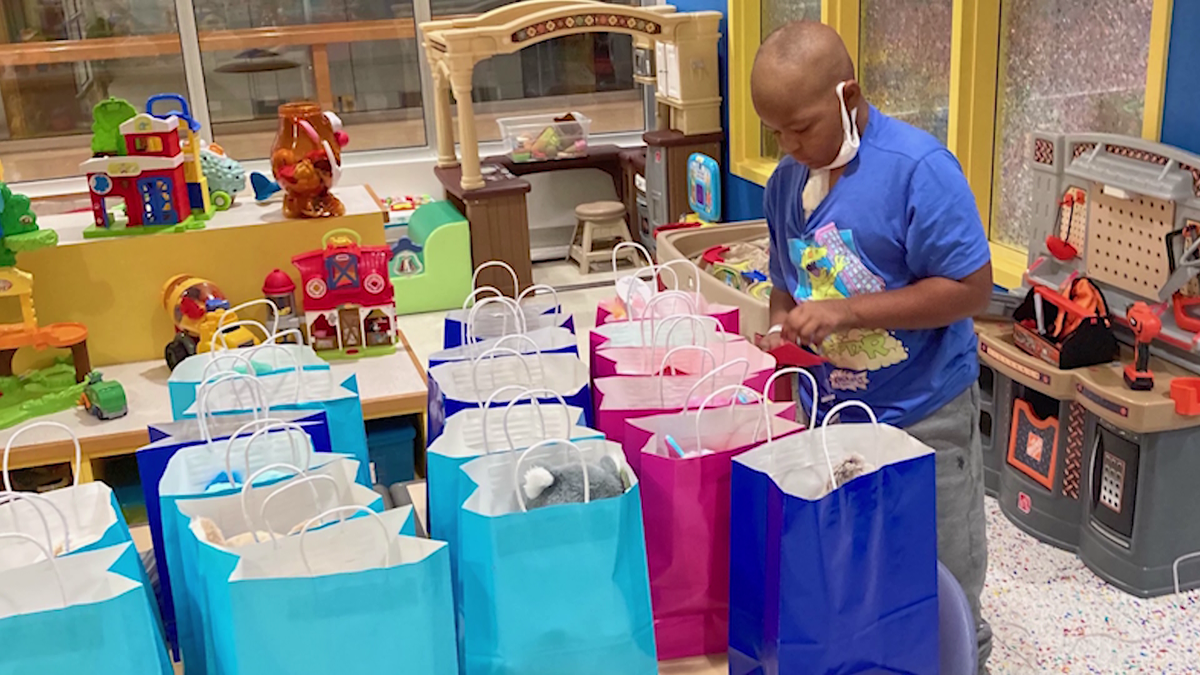 7-year-old cancer patient makes gift bags for other children at UPMC children's hospital
7-year-old Ahkeem Mims completed another round of chemotherapy treatments at UPMC Children's Hospital in Pittsburgh on Friday, but he doesn't just think about beating cancer, he cares about other children. Akeem decided to make gift bags full of things like candy and stuffed animals to make the kids happy inside the hospital. "Ahkeem Strong" is written on Akeem's shirt. His father, Rayshawn Lockett, proudly wears one too. This is not the only word that describes this little boy with a big heart. The word "nice" instantly springs to the minds of many. Lockett said: "He's just amazing. He's really, really strong and he loves people. He loves other people. He's just a really good kid and through everything that we go through he stays very positive and c is in itself a source of inspiration. " Ahkeem is battling rare bone cancer, which was shocking news for his parents. When Rayshawn found out, he shaved his dreadlocks to support his son. said. Ahkeem's family travel hours for their son to receive chemotherapy treatments, but Ahkeem had more on his mind once he arrived at UPMC Children's Hospital in Pittsburgh. "He saw one of the kids pass by and he said I wanted to do something for them. He said, can we do something for all the kids? I said absolutely and that's what we do. We did. We gathered some lovely gift bags and some really big balloons and handed them out to all the other child patients on the floor, "said Lockett. The little gift bags brought big smiles to the faces of so many. Children. Lockett said, "It was a proud moment for daddy for sure. He caught me off guard with that one, to be honest with you, because in the middle of all that he goes through ugh he always had that kindness in his heart and he keeps his spirits up through all the treatments and throughout everything, he always smiles and he always jokes and he's strong. He's definitely strong. I shoot a part of my strength from him. "As Ahkeem recovers, he continues to love life and spread love and hope to others. es.Ahkeem hopes to one day be a scientist or a police officer. There is a GoFundMe page in place. https: / /www.gofundme.com/f/ahkeem-strong
Pittsburgh –
7-year-old Ahkeem Mims completed another round of chemotherapy treatments at UPMC Children's Hospital in Pittsburgh on Friday, but he doesn't just think about beating cancer, he cares about other children.
Akeem decided to make gift bags full of items, such as candy and stuffed animals, to make the children in the hospital happy.
"Ahkeem Strong" is written on Ahkeem's shirt. His father, Rayshawn Lockett, proudly wears one too.
This is not the only word that describes this little boy with a big heart. The word "nice" instantly comes to many minds.
Lockett said: "He's just amazing. He's really strong and he loves people. He loves other people. He's just a really good boy and through everything that we go through he stays very positive and that ' is in itself a source of inspiration. "
Ahkeem is battling rare bone cancer, shocking news for his parents. When Rayshawn found out, he shaved his dreadlocks to support his son.
"We took him to the hospital just for knee pain. He was complaining about his knee. We thought it was just a sprain or something playing with his brothers," Lockett said.
Ahkeem's family travels for hours for their son to receive chemotherapy treatments, but Ahkeem had more on his mind when he arrived at UPMC Children's Hospital in Pittsburgh.
"He saw one of the kids go by and he said I wanted to do something for them. He said can we do something for all the kids? I said absolutely and that's what we have. made. big balloons and handed them out to all the other cancer patients on the floor, well to all the kids on the floor, "Lockett said.
Small gift bags have brought big smiles to the faces of so many children.
Lockett said: "It was a proud moment for daddy for sure. He caught me off guard with that one, to be honest with you, because in the midst of everything he's going through, he always had that kindness in his heart and he keeps his spirits up throughout all the treatments and throughout everything, he always smiles and he always jokes and he is strong. He is really strong. I draw some of my strength. from him. "
As Ahkeem recovers, he continues to love life and spread love and hope to others.
Ahkeem hopes to one day be a scientist or a policeman. A GoFundMe page is configured. https://www.gofundme.com/f/ahkeem-strong