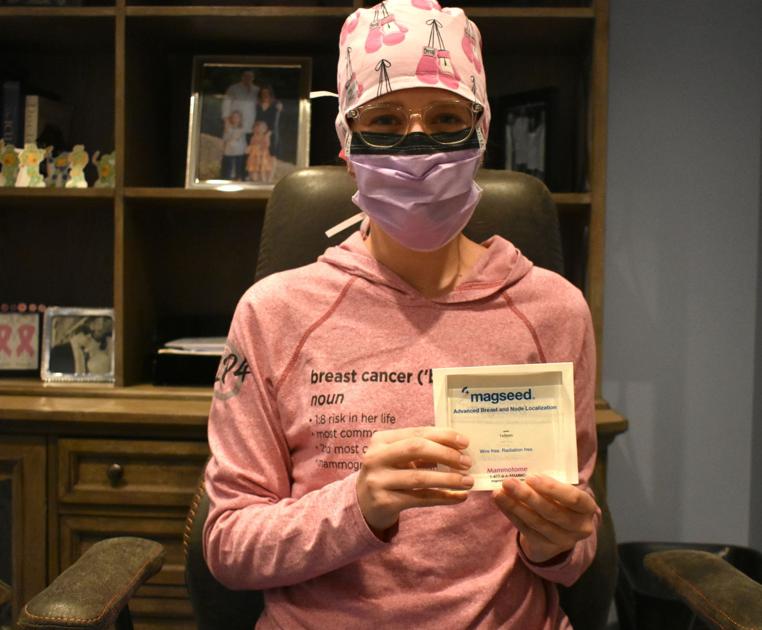 Baptist Health Brings New Technology to Breast Cancer Patients | New
Baptist Health Paducah is bringing new technology to local cancer patients through the use of an FDA-approved system that helps surgeons locate and remove breast tumors.
The Sentimag Magnetic Tracking System detects the magnetic markers, "Magseed" and the lymphatic tracer, "Magtrace," which are used for tissue localization and staging of breast cancer, according to a press release from Baptist Health. The system has a probe that detects the magnetic seed and the tracer, and Baptist Health describes this as a "simpler and more efficient alternative to traditional methods of using guidewires for tissue localization and radioactive traces for them. sentinel node biopsy procedures ".
The hospital said it was the first in the region to use this system.
Dr Kristen Williams, general surgeon in the Paducah Surgical Group, this week shared information on the use of Magseed and Magtrace, as Breast Cancer Awareness Month ends this weekend.
"What I tell my patients is that when I use Magseed it decreases their anxiety. It decreases the time they spend in the hospital and it decreases the risk that they will need more surgery, and I think those are the three things that really matter to patients, "Williams told The Sun.
A Magseed, made from surgical grade steel, is similar to a grain of rice in size. It is inserted through a needle and can be placed in a tumor days or weeks before surgery. The process takes about 30 minutes to an hour, Williams said.
"And then on the day of the operation, I have a probe that in the operating room allows me to find exactly where this seed is and then it also allows me to make a better incision and have less trauma. within because I can find exactly where it is with the probe, "she said." I can go straight there. "
It has other benefits, such as lower rates of positive margins (or cancer at the edges of removed tissue) and may improve cosmetic results.
"There is a study that showed that patients have less anxiety about having the seed than sons," Williams said.
"(There is) less time to spend on the day of surgery. This gets them out of here faster and has also been shown to decrease the rates of positive margins, so fewer women have to return to the operating room for a second operation, when using the seed, because it is more precise.
According to Baptist Health, Magseed can be used to mark "suspicious" lymph nodes before chemotherapy. In conjunction with Magtrace, it can help surgeons perform a "more focused dissection" and determine if the cancer has spread.
The hospital said Magtrace is a mapping agent that identifies specific lymph nodes, called sentinel lymph nodes. This helps to "precisely target them for removal". This is important in determining the stage of a tumor.
"I inject in the operating room, so the patient is already sleeping. It is not radioactive. It's magnetic, and they don't feel it coming in because they're sleeping, "Williams said of Magtrace, noting that it can also mean less anxiety for patients, compared to older methods.
The hospital got the system earlier this year. The Hospitals Foundation was able to fund it, thanks to the generosity of members of the annual giving society, "The President's Circle". The foundation provided $ 67,600.
Visit endomag.com to learn more about the Sentimag system.
Follow Kelly Farrell on Twitter, @ KellyAFarrell11
Follow Kelly Farrell on Twitter, @ KellyAFarrell11