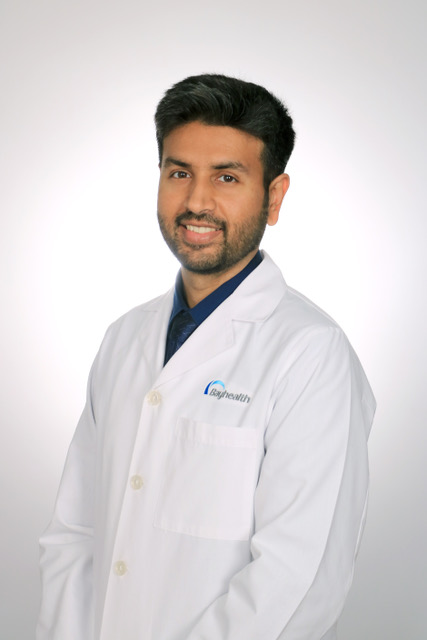 Bayhealth welcomes Dr Muhammad Hanafi, specialist in gastroenterology
Bayhealth announced the addition of Muhammad Hanafi, MD, to Bayhealth Gastroenterology, Dover. He is a gastroenterologist, also known as a gastrointestinal doctor, specializing in the health of the digestive system.
Hanafi cares for patients with various gastrointestinal conditions and performs colonoscopies, endoscopies and other procedures to prevent and treat diseases of the digestive tract, including colorectal cancer. He joins Bhavin Dave, MD, and Stephanie Nguyen, PA-C, in practice. Hanafi is now accepting new patients.
The practice is part of the Bayhealth Medical Group, a partnership of highly qualified physicians, their clinical staff, and an administrative support team that operates practices in central and southern Delaware.
"We are very happy that Dr. Hanafi is joining our practice," said Dave. "He has solid clinical expertise and a kind and caring demeanor that will greatly benefit our patients. It helps us expand access to high quality gastrointestinal care in our community.
Prior to joining Bayhealth, Hanafi worked at the University of Oklahoma Health Sciences Center in Oklahoma City, Oklahoma, where he completed a residency in internal medicine as well as his training in gastroenterology. He graduated from Ziauddin Medical College in Pakistan.
In 2019, Hanafi was the laureate of the 2nd Annual Academic Debates hosted by the American Liver Foundation, which attracts scholars and physician learners from various major academic institutions. He is currently a member of the American College of Gastroenterology and the American Gastroenterological Association.
Hanafi sees patients at Bayhealth Gastroenterology – Dover, 793 South Queen St., Dover. For more information or to make an appointment, visit Bayhealth.org/Medical group or call 302-744-9310.