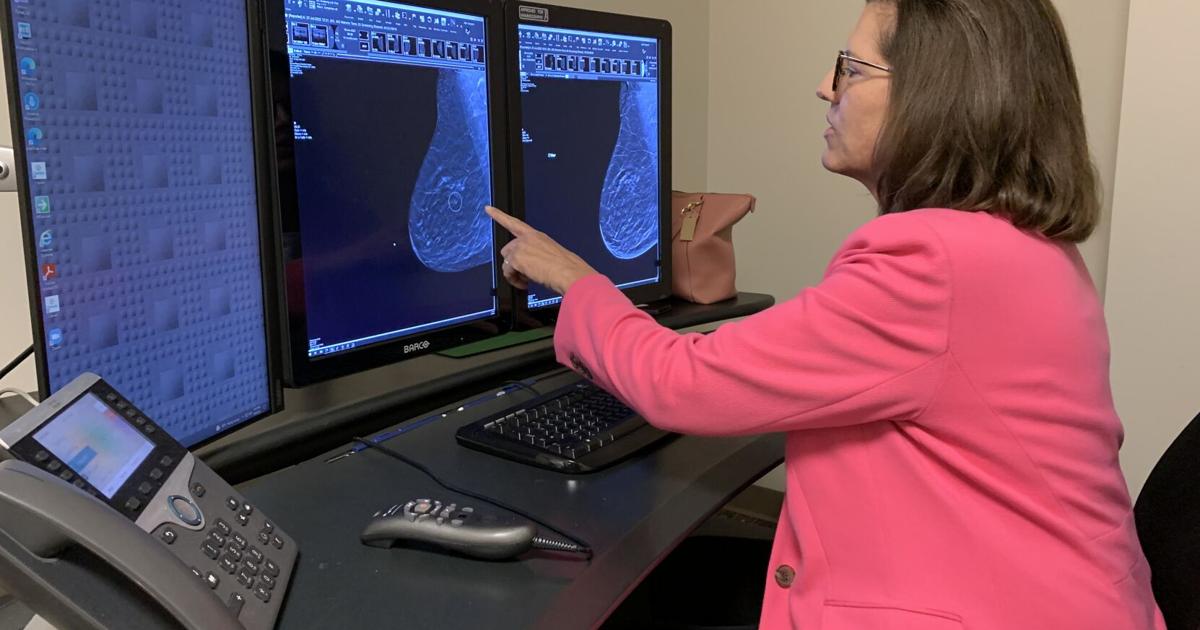 Breast Cancer Awareness | 'I love what I do': Radiology specialist uses personal experience to help Indiana Regional patients | Local News
INDIANA — Margaret Clark has spent decades in the breast radiology field analyzing mammograms, ultrasounds, MRIs and more.
This year, she brought her talents to the Indiana Regional Medical Center to continue the fight against breast cancer.
"I love what I do," Clark said. "I love helping patients through it all."
She noted that her goal is to make patients feel comfortable and supported through the process.
"One of the best things I can get a patient to say is that I did them no harm. I got the information I needed and I did him no harm," Clark said. "It's just a good thing, to be able to help patients through something that's just a horribly scary time."
The radiologist also knows what it's like to hear those life-changing words, because about 12 years ago she was diagnosed with breast cancer.
"It was terrifying," Clark said.
Her background in the medical field made it difficult for her because she knew so much, she said.
But she also acknowledged that with this knowledge, she was also aware of all the advances in treatment and success rates.
Clark said the cancer was discovered during an annual mammogram and an ultrasound-guided biopsy was performed.
Tests showed she had an aggressive type of breast cancer. So, with her oncologist, she opted for neo-adjuvant chemotherapy, that is to say that she had the treatment before surgery.
'Take care of her'
Clark said she likes to keep the details of her treatment private so as not to influence her patients, pointing out that what was right for her might not be the best approach for someone else.
"Treatment is so individualized these days," she said.
After the operation, she received an impeccable bill of health, but does not consider herself a survivor as the thought of cancer is still on her mind.
Clark said the treatment process was a "long term" one and all the time all she could think about was wanting to be there for her children, who were younger at the time.
The diagnosis also changed the way he approached his job.
She was already a dedicated radiologist, but not now that she's even more committed to finding "stuff that's really, really small" so her patients can get the help they need as soon as possible.
Clark also said her empathy for breast cancer patients has grown.
However, she doesn't always share her story with those who see her.
"If I think any patient, especially maybe a younger patient, would benefit from knowing that I was diagnosed in 2010," she said, "and that I'm here to take care of her, I hope this helps."
military experience
The radiologist got her start at the University of Pittsburgh Medical School, which she attended from 1985 to 1989, before joining the United States Army in 1990.
From there, she rotated out for radiology at Fitzsimons Army Medical Center, Colorado, and remained there for her residency before being transferred to Fort Riley, Kansas.
She said that during her residency, she developed a fondness for mammography.
"The more I did, the more I liked it," Clark said.
Despite this fascination, she feared that if she continued her career it would mean never seeing patients, however, with the way her practice is set up, that is not the case.
Through her interest in mammography, she continued to Fort Riley – where she and her colleagues used a stereotactic biopsy unit for a mammography machine with a chair that allowed patients to be on their side.
This process generates images of an area that guides the radiologist, using a needle to take a targeted sample.
Clark said the unit allows for better biopsy because it allows access to breast tissue that can be blocked by the edge of a typical larger machine.
She and her colleague published two articles on the subject.
In 1998, she left the U.S. Army and went to another hospital in Kansas, where she and her husband, Dan, a surgeon and director of the IRMC breast center, worked together in a practice of stereotactic biopsy.
While stereotactic work was his specialty for a while, due to advances in ultrasound mammograms, this work is now reserved for calcifications and small findings not visible on ultrasound.
There is also a subset of a stereotaxic biopsy she performs, known as a tomosynthesis-guided biopsy, that provides a 3D-like image of the tissue, which Clark says is sometimes the only way radiologists to see what they need.
During her career, Clark worked at UPMC Altoona, Latrobe, and Westmoreland hospitals with Excela Health, where she spent nearly 20 years.
"Puts patients at ease"
Which brought her to Mr. Dorcas Clark, MD. The IRMC Women's Imaging Center was her husband, who started working at the hospital four years ago.
Clark said he told her how good the program was at the hospital and what a great place it was to work.
"It's a nice, small, small place and there's so much to it," she said. "I feel like we can really take care of our patients."
Lesa Walker, technologist at the Women's Imaging Center, said Margaret Clark is a great addition to the department.
"You can tell she has a passion for her patients and for the field," Walker said.
She works with Clark on a daily basis.
Walker said Clark was leading her and the others through the imaging process.
"She has a way of being that puts patients at ease," Walker said, adding that Clark does whatever she can to help.
Walker described Clark as a breath of fresh air for IRMC's breast cancer center and noted her decades of work in the field that "only benefits everyone."
Joshua Byers is a reporter for The Tribune-Democrat. He can be reached at 814-532-5054. Follow him on Twitter @Journo_Josh.