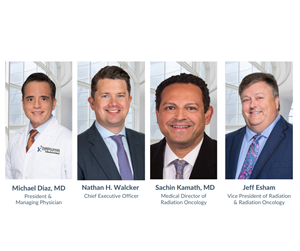 Florida Cancer Specialists & Research Institute wins
Fort Myers, Fla., Sept. 23, 2022 (GLOBE NEWSWIRE) — Florida Cancer Specialists & Research Institute, LLC (FCS) has earned a three-year accreditation term in radiation oncology, including each of its nine sites, at the following a recent review by the American College of Radiology (ACR). RAC is the nation's oldest and most widely accepted radiation oncology accrediting body, with more than 700 accredited sites and 30 years of accreditation experience.
Radiation oncology (radiation therapy) uses high-energy radiation to shrink or destroy tumor cells. Used alone or in combination with other therapies, it is very effective in curing cancer and relieving pain. FCS offers a full range of radiation oncology therapies at nine clinics in Florida. Each location is equipped with advanced and state-of-the-art technologies that ensure radiation delivery with maximum efficiency and patient safety.
"The ACR Accreditation Seal represents the highest level of quality and patient safety," said FCS CEO Nathan H. Walcker. "Our patients can be confident that FCS meets and exceeds ACR's specific practice guidelines and technical standards as a result of peer review conducted by board-certified radiation oncologists and medical physicists, experts in the field."
FCS President and Physician Director Michael Diaz, MD, said, "This comprehensive accreditation recognizes the skills and dedication of our board-certified radiation oncologists, therapists, and support staff who are dedicated to making ensure that our patients receive the most advanced treatments delivered with precision. "
Jeff Esham, MBA, RT, (R)(T), FCS Vice President of Radiation & Radiation Oncology, added, "We are extremely proud of this impressive achievement which is the sum of years of planning, collaborating on Scale of practice and alignment on ensuring that the highest level of quality and safety is achieved at each of our nine sites. To receive this recognition for all sites is truly a remarkable achievement and one that will guide ongoing initiatives that ensure our patients receive world-class cancer care.
Echoing these sentiments, FCS Medical Director of Radiation Oncology, Sachin Kamath, MD, said, "Delivering this level of quality is not easy. I commend our physicians who have truly embraced our in-house radiation oncology treatment capabilities and who have been instrumental in achieving this accreditation. The quality processes and initiatives that were put in place at the nine sites took years of extensive review and documentation and laid the foundation for successful radiation oncology practices in the future at FCS.
RAC is a national professional organization serving more than 36,000 diagnostic/interventional radiologists, radiation oncologists, nuclear physicians and medical physicists with programs focused on the practice of medical imaging and radiation oncology and the delivery comprehensive health care services.
# # #
About Florida Cancer Specialists & Research Institute, LLC: (FLCancer.com)
Recognized by the American Society of Clinical Oncology (ASCO) with a National Clinical Trial Participation Award, Florida Cancer Specialists & Research Institute (FCS) offers patients access to more clinical trials than any private practice of oncology in Florida. The majority of new cancer drugs recently approved for use in the United States have been studied in clinical trials with the participation of Florida cancer specialists.
Founded in 1984, Florida Cancer Specialists has built a national reputation for excellence that is reflected in exceptional, compassionate patient care driven by innovative clinical research, cutting-edge technologies and advanced treatments, including targeted therapies, treatments based on genomics and immunotherapy. Our highest values ​​are embodied by our exceptional team of highly qualified and dedicated physicians, clinicians and staff.
*Before approval
FCS Obtains ACR Accreditation for Radiation Oncology