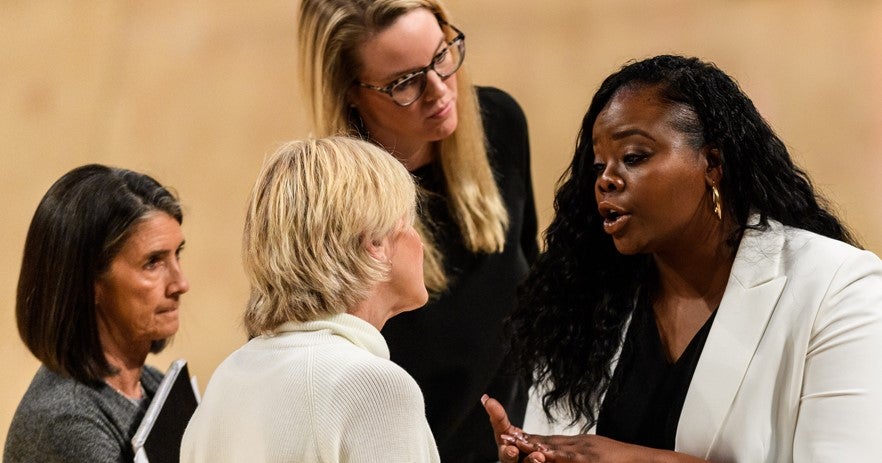 Former Lady Vol Tasha Butts diagnosed with breast cancer
Former Lady Flight basketball Tasha Butts, now a Georgia Tech coach, has been diagnosed with advanced breast cancer and will continue to fulfill her role as associate head coach while undergoing treatment.
"Tasha has the full support of the Georgia Tech athletic family," the school said in a statement Wednesday. "She is an inspiration to our student-athletes, coaches and staff, and we are 100% behind her in this fight. She will retain her position as Georgia Tech Women's Basketball Associate Head Coach while under treatment. During intermittent periods of the treatment process when she cannot be with the team, women's basketball chief of staff Mickie DeMoss will assume the duties of assistant coach.
DeMoss, a former Lady Vols assistant coach who was on staff when Butts played at Tennessee from 2000 to 2004 for the late Pat Summitt, has been chief of staff to head coach Nell Fortner since Fortner took over the helm. Yellow Jackets from the 2019-20 season.
Butts also released a statement Wednesday via Georgia Tech's athletics department:
"In November, I was diagnosed with advanced breast cancer. As I am still dealing with this life changing diagnosis and learning to manage it on a daily basis, I have full confidence in my team of doctors with the treatment plan they have come up with and which I have already started. The tremendous support I have received from my family, close friends and Georgia Tech family has made the past few weeks a little more bearable and easier.
"It was not an easy discovery. At 39, I never thought I would be sitting here facing this disease. But I have full confidence in my doctors, in my faith, in who I am and who I have been taught to be, who is a fighter. I want and hope to be an example and an inspiration to others who might experience the same.
"Through my process, I learned that early detection is the best possible approach. I strongly encourage everyone to be fully aware of any symptoms or red flags they may be feeling and to seek medical attention. Early detection can give someone (peace of mind) during a life changing event.
It is a life changing experience and the # 1 priority for me right now is taking care of myself through treatment and surrounding myself with people who will take care of me to the same degree. I have an amazing support system at Georgia Tech for which I am grateful. During treatment, I will still be here at Georgia Tech and fully support our program as I can. I am fortunate to be surrounded by a fully supportive Georgia Tech community and I am grateful to have them on this journey.
We love you, @TashaButts ?? pic.twitter.com/SecS2lOmfV

– Georgia Tech Women's Basketball (@GTWBB) December 9, 2021
Tennessee had a similar experience when former Lady Vol Daedra Charles-Furlow was diagnosed with breast cancer in the 2009-10 season while she was an assistant coach. Charles-Furlow joined the Tennessee staff from the 2008-09 season after serving as an assistant coach under Fortner, who was then head coach at Auburn.
Charles-Furlow replaced Nikki Caldwell Fargas, who took over as head coach at UCLA after the 2007-08 season and then moved to LSU. Butts served on the Fargas staff in Los Angeles and Baton Rouge. Fargas, also a former Lady Vol player from 1990 to 1994, is now president of the WNBA's Las Vegas Aces and makes television commentaries for basketball.
During the treatments that took Charles-Furlow away from the Tennessee team, Stephanie Glance, who then served as Summitt's special assistant as a non-coach and had previously served as interim head coach at NC State when the late Kay Yow fought to the chest. cancer, was elevated to assistant coach. Charles-Furlow, whose nickname was "Night train" was heading to practice, and the players would make train horn noises, then circle it with hugs.
"We were all shocked at Tasha's diagnosis, but the good news is that she is in a fantastic city with extremely qualified doctors to treat her," Fortner said in a statement. "Tasha has been instrumental in our success over the past two and a half seasons. She is surrounded by a Georgia Tech community that will support her and a team that will love her through it. Tasha is a strong woman who is determined to overcome this diagnosis, and we will be with her every step of the way. "
Charles-Furlow, who played in Tennessee from 1988 to 1991, was a breast cancer survivor and then died in 2018 of what could have been heart disease in his hometown of Detroit shortly before her 50th birthday. Former Lady Flight Melissa McCray-Dukes, who played in Tennessee from 1985 to 1989, died of breast cancer in 2010 at the age of 43.
Former Lady Flight Nikki McCray, who played in Tennessee from 1991 to 1995, underwent treatment for breast cancer in 2013 while an assistant coach in South Carolina and survived. She resigned her post as Mississippi State Head Coach in October and said in a statement: "Over the past few weeks I have again faced health issues that I hoped to be. behind me. In light of these developments, I have decided to retire from coaching in order to devote all of my time and energy to solving these issues. While I can't wait to return to training when I can, I believe this is the best decision for me and my family right now. I appreciate the support MSU has shown me, and I will shoot for the team's success this season.
Other former Lady Vols who survived breast cancer included Suzanne Barbre Singleton, who played from 1974 to 1978, and Liza Graves, who played from 1975 to 1978, and regularly attends Tennessee games. Both former players also took part in Lady Vol's Alumni Weekend last month.
Georgia Tech, 6-2, which collects votes in the Top 25 polls, will play this Thursday, December 9 at the McCamish Pavilion in Atlanta against UConn, 5-1 at 7 p.m. EST (TV: ESPN2). Fans from Tennessee in the Atlanta area may want to attend and add some orange or pink to their outfit as a sign of support.