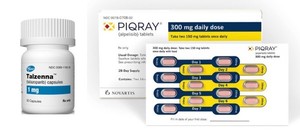 Increased access to drugs is needed for breast cancer patients with gBRCA, PIK3CA mutation
Most breast cancer patients who gained government approval for compassionate use of non-reimbursable drugs had gBRCA or PIK3CA mutations, signaling that the government should expand access to new drugs.
According to the integrated drug information system of the Ministry of Food and Pharmaceutical Safety, the MFDS on Monday approved 61 cases of compassionate use of therapies to treat breast cancer.
Almost half (28) of compassionate use involved Pfizer Talzenna's PARP inhibitor (talazoparib) and 22, Novartis Piqray's PIK3Caα inhibitor (alpelisib).
Pfizer's Talzenna obtained marketing authorization on July 30, 2020, but national health insurance does not cover it.
Pfizer requested reimbursement from Talzenna immediately after obtaining the license, but the Health Insurance Review and Assessment Service (HIRA) refused to grant it in November.
AstraZeneca Lynparza PARP inhibitor (olaparib) is available in Korea, but it is not reimbursed for the treatment of breast cancer.
The company applied for reimbursement for Lynparza in breast cancer when it changed the drug from capsule to tablet last year, but HIRA did not approve it.
Piqray is also not refundable in Korea.
On May 13 of last year, the treatment won the green light as combination therapy with fulvestrant in advanced or metastatic breast cancer in postmenopausal women and men who are hormone receptor positive (HR +), human epidermal growth factor 2 (HER2) receptors negative, and PIK3CA mutation positive with disease progression after previous endocrine therapy.
Piqray is the only targeted therapy for patients with a PIK3CA mutation, who represent 40% of HR + / HER2- patients. But getting a refund became more difficult as the standard treatment changed during Piqray's development.
Since the standard of primary care for HR + / HER2- patients has been changed to a combination of hormone therapy and CDK4 / 6 inhibitor, there is no way for Novartis to establish evidence for a phase 3 clinical trial in patients previously treated with CDK4 / 6 inhibitors.
Instead, Novartis is continuously producing data proving the effectiveness of Piqray in patients who used CDK4 / 6 inhibitors in phase 2 trials. Yet it is not clear whether the HIRA will recognize the data. as reliable evidence.
Under such circumstances, if Korean breast cancer patients with gBRCA or PIK3CA mutation wish to benefit from these targeted therapies, they should use them without insurance coverage or obtain compassionate use authorization with help. of doctors.
To get the green light for compassionate use, a hospital must spend a considerable amount of money on paperwork and manpower for follow-up. If a hospital does not have such resources, it is not easy to apply for compassionate use authorization. So, health experts said that only a number of large hospitals in Korea could use this system.
As the latest drug information from the MFDS has shown a clear demand for targeted therapies in breast cancer patients with a gBRCA or PIK3CA mutation, health officials will be under pressure to make targeted therapies reimbursable to manage these patients. , observers said.