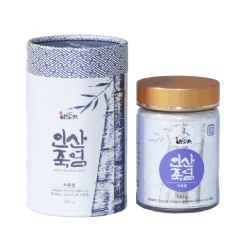 Korean bamboo salt maker specialist Insan Bamboo Salt Co., Ltd. launches its products on the world market
WEB WIRE
–
Thursday, October 7, 2021
Insan Bamboo's bamboo salt making started with Insan Kim Il-hoon, the inventor of bamboo salt and founder of oriental cancer medicine, who invented bamboo salt and applied it to therapeutic purposes. By developing Miracle Capsule, a functional food for immune health that has dramatically improved the effectiveness of bamboo salt, the company is squarely targeting the natural atopic food for children market. In addition, the company continues to research and develop healthy foods with health benefits and anticancer effects, such as medicinal soy sauce, sari soy sauce (made from fermented black soybeans) and duck au sulfur. Bamboo salt is a 100% natural food without additives.
According to the company: Phosphoric Acid Bamboo Salt eliminates the toxicity of common salt and increases the active ingredients of bamboo and pine. In addition, Insan bamboo salt has effects such as detoxification, immune system enhancement, anticancer, anti-inflammatory and sterilization. The increased effectiveness of bamboo salt has been proven by numerous domestic and foreign studies. Bamboo salt is effective in relieving constipation and eliminating bad breath, with anti-inflammatory, anti-acne, and anti-cancer effects, including relief from gastrointestinal illnesses. The anticancer effect of kimchi extract has been medically verified with bamboo salt to kill cancer cells or stop their growth. Insan bamboo salt is also effective for tooth and gum disease and prevents tooth decay.
Bamboo salt is also used in cooking. Additional products available are Insan Bamboo Salt Toothpaste and Insan Bamboo Salt Soap Products.
Under the motto ?? contribute to the health of humanity ?? With various effects of bamboo salt (a natural product from Korea), Insan Bamboo Salt strives to research and develop methods of making healthy food and biopharmaceuticals with promoting health, improving disease and anti-cancer effects.
Insan Bamboo Salt is committed to actively promoting its products in various global markets.
(Image from press release: https://photos.webwire.com/prmedia/71383/280029/280029-1.png )
WebWireID280029
Korean bamboo salt
Bamboo salt effects
Bamboo salt toothpaste
Bamboo salt soap
Atopic natural food
Contact details

Elin Kim
director
More

Contact by e-mail
This news content may be incorporated into any legitimate news gathering and publication effort. Linking is allowed.
Press release distribution and press release distribution services provided by WebWire.