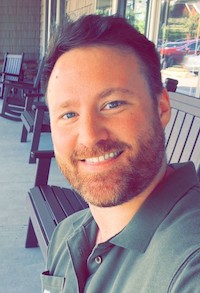 Orléans Support Care once again welcomes a marketing and development specialist
By Ginny Kropf, correspondent Published on August 16, 2022 at 10:07 am
ALBION – Hospice of Orleans/dba Supportive Care of Orleans has announced the return of Derek Reiner from Albion as its new Human Resources/Marketing/Development Specialist. Reiner previously worked at Hospice as director of development and public relations from 2019 to 2021.
"We are thrilled to welcome Derek home," said Julie Kumiega, CEO of Supportive Care of Orleans. "He kicked off with our Toast to Hospice event on August 27 and is already talking about plans for a 10-year anniversary event to celebrate our Martin-Linsin residence."
A 2005 graduate of Attica Senior High School, Reiner has two college degrees, one from Trocaire College, where he studied sports and medical massage therapy and applied science, and the other from Brockport State College, where he studied exercise science and kinesiology, before pursuing her doctorate in chiropractic.
"I am honored to serve the Orleans County community again," Reiner said. "I am very committed to improving our community's knowledge of the hospice palliative care services we provide and to help close the gap in care for terminally ill residents of Orleans County. »
Reiner has worked simultaneously in healthcare and technology for the past decade. He has held positions in technology companies and chiropractic wellness centers, as well as running his own private practice.
He worked and interned for the Roswell Park Cancer Institute, providing oncology massage as well as end-of-life care, which became a big part of his life. He also worked for a global technology distributor providing market development services to thousands of IT vendors and customers nationwide.
He is also a seasoned marketing and business development professional with an adaptive disposition in the technology and healthcare industry.