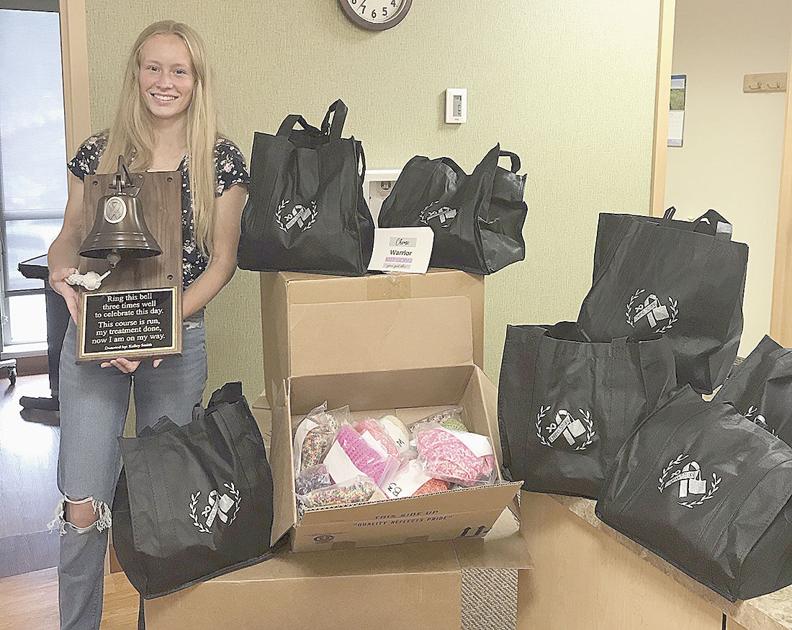 Osceola Student Founds 'Chemo Strong' to Help Cancer Patients | New
Kalley Smith's mother, Amy, has undergone 16 cycles of chemotherapy and 28 cycles of radiation therapy since being diagnosed with breast cancer in September 2019. After watching her mother struggle for treatment and rehabilitation, Kalley has decided she needed to help other cancer patients. When she was a junior at OHS, she took a course called "Why Wait" which helps motivate students to tackle a problem or issue they are passionate about. Kalley knew straight away that she would dedicate her time to helping people with cancer.
Over the past year, Kalley has raised funds to provide cancer care bags to patients at the Sainte-Croix Regional Medical Center (SCRMC). The bags contain things like hard candy, lotion, lip balm, puzzle books, and other items that make chemotherapy a bit easier.
Kalley decided to raise $ 1,200 and make 100 bags when she started. To date, she has raised over $ 3,000, purchased 120 bags and funded the purchase of a ceremonial bell that SCRMC cancer patients ring at the end of their last treatment.
The Sun sat down with Kalley and his mother Amy to discuss the project and all that Kalley has accomplished.
S: Tell me more about the 'What Wait' course. What did this involve and how did it influence your motivation to help others?
K: "Why wait? Is a course that offers the opportunity to study and tackle a subject that fascinates everyday students. Students then create a project that solves a problem related to their chosen topic by volunteering their time and contacting mentors. Without the "Why wait?" Platform, I would not have accomplished what I have today. Most of the help and advice I received was due to people in the community recognizing the name of the past years.
S: How did you decide what to put in the packaging, and was that also influenced by what you saw your mother go through?
K: One of my first project priorities was to speak with an expert who cares for cancer patients on a daily basis. My mom recommended one of her nurses at the St. Croix Falls infusion center. From there, I put together a list of questions; the most important being "which items do you think would be best to put in the packages?" The nurse gave me a great starting point on which to base my fundraising needs. Of course, I also asked my mom what she thought was worthy enough to be included in the packs, and she answered many of the same items. I also met community members along the way who recommended additional items that their loved ones appreciated during treatment. I added all the items that my funds allowed me for: blanket, water bottle, hard candy, hand warmers, journal, puzzle book, pen, mouthwash, brush soft toothbrush, hand sanitizer, lotion and balm stick.
S: How did you get the word out to help you raise money?
K: To start my fundraising journey, I created a GoFundMe page. From there, I shared it on social media so that my friends and family could contribute and share it even more. While it helped, a lot of the outreach was reaching out to small businesses and other authority figures who could help me sell fundraising items, like my Chemo Strong tumblers.
S: How long did it take to collect the money and how did it make you exceed your goal by so much?
K: The time between my first and last donation was around 8 months (October 2020 – May 2021). The fundraising process started slowly as I didn't reach my initial goal of $ 1,200 until December. But, I swear he grew exponentially from there, thanks to a generous donation made by the Dresser Lions. By May, I had exceeded that number 2.5 times because I had raised over $ 3,000. To this day, I am more than speechless at the success I have had and I want to thank those who have contributed, because none of this would have been possible without you!
S: Where did the idea for the bell come from?
K: The idea for the bell only came from my mother. And it turns out I had a few hundred dollars that I hadn't done anything with yet.
S: How did you feel about helping cancer patients after seeing your mom undergo chemotherapy, radiation therapy, and everything that goes with fighting cancer?
K: I am delighted to be able to help as many cancer patients as I have, because I have seen with my own eyes how frightening and even traumatic this journey can be.
S: If you don't mind, briefly describe your own battle with cancer, when you were diagnosed, how long the treatment lasted and where you are today.
A: I was diagnosed with breast cancer in September 2019 and had a bilateral mastectomy in October. In November, I had a port placed for chemo, which started the day before Thanksgiving. I had 16 cycles of chemotherapy which lasted until April 2020. I started 28 cycles of radiation therapy in May and finished them at the end of June. In October 2020, I underwent reconstruction surgery. Today I'm fine. So far, I have no signs of the cancer coming back and I pray that it will stay that way. It has been a very long road.
Subject: After going through all of this, describe what it was like to see your daughter helping so many other people who were going through the same thing.
A: I am extremely proud of her !! She had a pretty high goal, and for her to exceed it by so much was incredible. She worked very hard on this project and was very passionate about it. It was fun to watch. She is an amazing young woman, with a heart of gold and she has proven it with what she has been able to accomplish. I hope she realizes how many lives she will touch and how she will make a difference for people at a very difficult time in their lives. After sitting in these chairs in the infusion center for hours on end while I received my chemotherapy treatments, I know firsthand how much others will appreciate her gift.