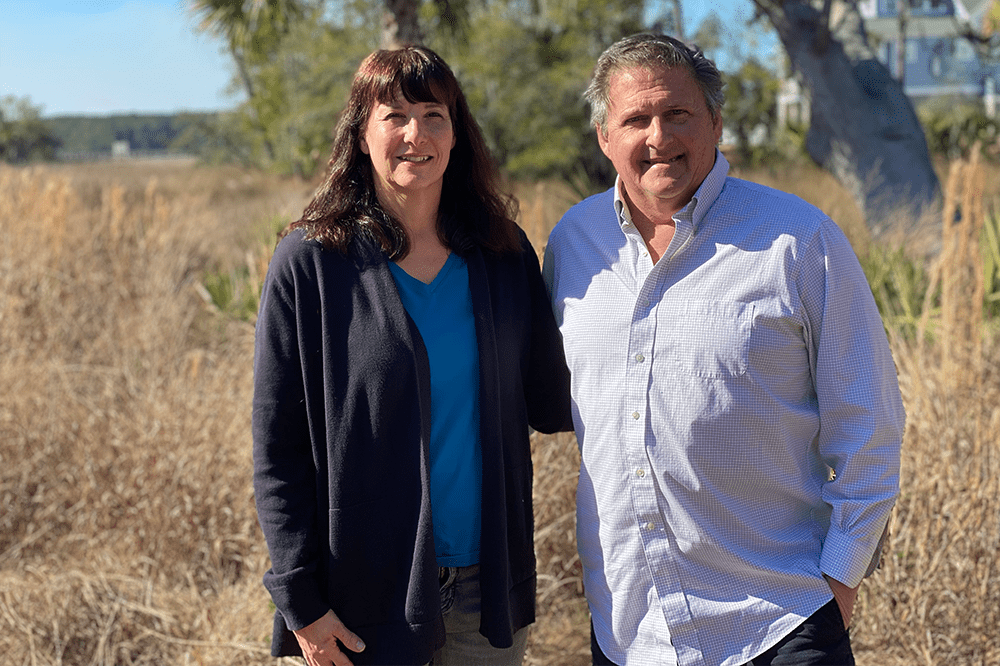 Patient Helps Others While Participating in Hollings Multiple Myeloma Clinical Trial | MUSK
Running a marathon is no small task – Glenn Bachmann should know that after training and running seven times between 2006 and 2013. He didn't just run for himself – he was part of the training from the Leukemia & Lymphoma Society. For years, Bachmann has used his love of running to raise awareness and funds for blood cancers by participating in these races. Little did he know that in 2020 he himself would be diagnosed with it.
"I didn't really have any physical symptoms. During a routine physical exam in 2015, my doctor told me that my blood test showed a high spike in a protein. I was told it would be something I should monitor, which I did every three months with a blood test," Bachmann said. "The readings gradually increased until they peaked in January 2020, possibly indicating cancer."
Bachmann was only 57 at the time. Following this blood test, he underwent a bone marrow biopsy, which revealed that 70% of his cells were cancerous. Bachmann heard the news – he had multiple myeloma. "I was pretty determined to beat this from the start. I was really focused on what's happening now. I wanted to know everything I could about it.
Shortly after the diagnosis, Bachmann began a chemotherapy regimen that consisted of daily oral pills and infusion chemotherapy once a week. The goal was to lower the protein level in his blood to prepare for a stem cell transplant.
With a transplant imminent, Bachmann decided to transfer her care to specialists at MUSC Hollings Cancer Center. It was there that he first met Hamza Hashmi, MD, a Hollings hematologist oncologist.
Hashmi said Hollings is unique because the center is able to offer expertise to blood cancer patients statewide. "We have a tumor committee that meets weekly to discuss cases at Hollings to determine the best course of treatment for that particular patient. Providers across the state can also refer patients to us. In some cases, we may virtually resolve a case with that provider to ensure that that patient receives the best information available, regardless of where they live.
Under Hashmi's guidance, Bachmann underwent the stem cell transplant at Hollings in September 2020. He was hospitalized at MUSC for the next two weeks for monitoring. "I had a fever after the transplant, which the doctors told me was quite common. I had also become very weak from the chemotherapy and had lost about 30 pounds at that time. -the.
In October, Bachmann returned to his Mount Pleasant home to continue the recovery process. "Coming home after the transplant was humbling because I was so weak. My wife was, and still is, an amazing caregiver. Even walking half a block to the mailbox was a challenge for me.
While Bachmann felt supported by his family and friends, he wanted to talk with other patients and survivors of multiple myeloma. He turned to a group he knew well, the Leukemia & Lymphoma Society, and joined their First Connection program. The program provides patients with a mentor who has also walked the multiple myeloma journey. Today, he volunteers his time as a mentor to help others struggling with this disease.
"I think it's important to be able to talk to someone who has been through or is going through what you have. Once you've lived through cancer, it gives you a different perspective that only another person who's lived through it can truly understand. You gain an appreciation for life, and giving back is just one way to show my gratitude.
Help advance science
Serving as a mentor in the program isn't the only way Bachmann helps other patients with multiple myeloma. In January 2021, Bachmann returned to Hollings for his 100-day post-transplant visit. It was during this visit that Hashmi informed Bachmann of a proposed clinical trial at Hollings for which he thought Bachmann was a good candidate.
The Phase III clinical trial is testing the standard regimen of maintenance chemotherapy with the standard regimen and the addition of a drug called daratumumab. The standard of care for patients with multiple myeloma after a transplant is to continue on maintenance chemotherapy for the rest of their lives, as long as they tolerate it and respond well. Hashmi said this trial poses an important question that could affect patient care and overall quality of life in the future.
"The benefit of this trial is that it really focuses on a clinical question that doctors and researchers have been asking for a long time. The question is whether maintenance chemotherapy after transplantation should be continued for the remaining years of the patient's life or whether it can be stopped after approximately two years of treatment in patients in deep remission," Hashmi said. .
Another benefit of the trial is its ability to test for minimal residual disease (MRD) to try to predict whether a patient's cancer will get worse. MRD refers to a small number of cancer cells that remain during or after treatment when a patient is in remission. MRD is one of the factors that can cause cancer relapse. Hashmi said patients in the trial undergo bone marrow biopsies, which allows researchers to better understand how the patient is responding to treatment. "In an ideal world, we're looking for a very deep level of remission equivalent to a cure for these patients," Hashmi said.
Bachmann began the two-year clinical trial in January. It is now more than halfway there. "Mr. Bachmann has done very well so far with another year to go. At the end of the required two years of treatment, he will undergo a bone marrow biopsy and this will determine whether he can stop treatment or not.
If Bachmann stopped his treatment, he would continue to have blood tests every three months to make sure his levels remained good.
Today, Bachmann is still working to regain his strength and spending time with his wife and three children. He is grateful to have access to nearby Hollings clinical trials and experts. He understands how far science has come to allow him to have a procedure like a stem cell transplant, and he wants to play a part in advancing science so that more patients can be helped in the future.
"The progress made in the treatment of cancer is incredible. New treatments are constantly coming out that can prolong life until the next new treatment is approved," Bachmann said. "If I can help prove the effectiveness of this treatment and help others in the future, I thought that would be great."