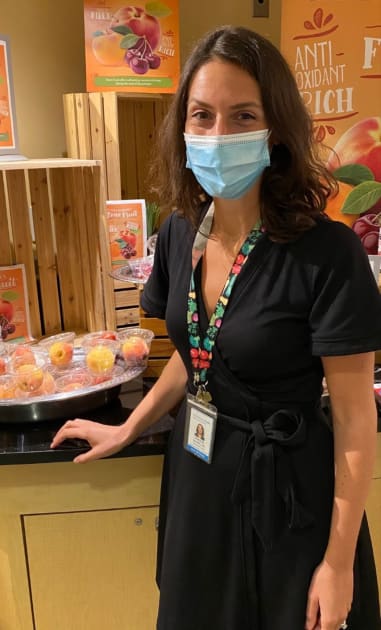 Registered Dietitians play a vital role in cancer care at Smilow Cancer Hospital
Albert Rubino knows the importance of having a registered dietitian involved in his cancer care at Smilow Cancer Hospital. In 2017, she was diagnosed with oropharyngeal cancer. It is a type of head and neck cancer that is found in the middle part of the throat.
"The treatment of my cancer was very difficult because I had many chemotherapy and radiation therapy sessions," said Rubino. "The therapy did wonders in fighting my cancer, but the effects of radiation and the need for a feeding tube have permanently changed my eating habits. I could not tolerate many foods anymore and had to maintain a healthy weight to help overcome this disease. "
Vanessa Salino, MS, RD, CSO, CDN, is a Registered Dietitian who is also a Certified Oncology Nutrition Specialist at Smilow. She partnered with Mr. Rubino's clinical care team to develop a good nutrition plan to help Mr. Rubino reduce the side effects of treatment.
"There are many ways a registered dietitian can help. We can recommend strategies to help reduce side effects such as difficulty swallowing, sore mouth, nausea or vomiting, loss of appetite, taste changes, diarrhea or constipation, "said Mrs. Salino. "We're here to help patients achieve and maintain optimal body weight, which can mean preventing unintentional weight loss or weight gain. Professional dietitians are also able to provide factual information about dietary supplements and offer reliable answers to questions related to nutrition. If necessary, they are qualified to handle advanced methods of nutrition such as intravenous nutrition.
Ms. Salino met Mr. Rubino after every appointment with an oncologist during his treatment at Smilow Cancer Hospital. After removing his feeding tube, he was put on a mash diet with thickened liquid and gradually switched to a soft food diet, which he continues to follow. "I would never have known what to eat and how to prepare it without the advice Vanessa gave me," Mr. Rubino said. "With the whole Smilow team, she was exceptional!"
"For many of my patients, something that once brought them joy [eating], has become an unpleasant chore, "Ms. Salino said. "They can lose weight fast and risk developing malnutrition, so it's so rewarding when I can make a difference in the lives of patients like Al."
Now, almost four years since his last cancer treatment, Mr. Rubino is cancer free and maintains a healthy weight. He continues to consult Ms. Salino to improve his calorie intake and the quality of his food choices, including suggesting different foods that he may not have tried before. For patients, Ms. Salino's best advice is to be flexible.
"A lot can change during any given treatment, including diet," Ms. Salino said. What about his advice for family and caregivers? "Also be empathetic and flexible. It can be difficult to understand that the patient's relationship with food has changed and may continue to change, "Ms. Salino said. "If caregivers can, provide meals that are easy to eat, as well as love and understanding. "
Mr. Rubino also gives advice to other cancer patients. "I think a lot of people don't want to ask for help, but I would tell anyone who's going through this journey that I'm glad they did," Rubino added. "Having a registered dietitian like Vanessa on my team has helped me achieve a positive outcome in my cancer care and that's all we hoped for. "