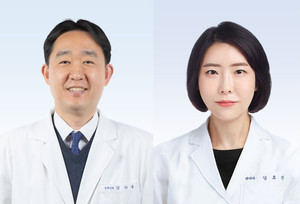 SNUBH discovers protein biomarker distinguishing types of endometrial cancer
A team from Seoul National University Bundang Hospital (SNUBH) has discovered a protein biomarker that distinguishes molecular types of endometrial cancer.
The uterus has two major categories the cervix, the entrance to the uterus and the uterine body, where the fetus develops. Endometrial cancer arises from the endometrium, which is the lining of the uterine body.
While the cancer was not common among Korean female patients until a few years ago, it has become the most common gynecological cancer since 2019. Unlike cervical cancer, which is easy to diagnose through at early regular checkups, endometrial cancer is difficult to detect on regular checkups. checkup.
In most cases, patients suspect the presence of cancer by bleeding symptoms and only receive a definitive diagnosis after a biopsy. However, since the biopsy method is difficult and painful, it is difficult to receive it regularly during a regular health check-up. Therefore, if irregular menstruation, excessive menstruation or abnormal bleeding other than menstruation appears, it is necessary to suspect endometrial cancer and consult a gynecologist.
If bleeding occurs after menopause, it is necessary to search for endometrial cancer.
The Cancer Genome Atlas (TCGA) classifies endometrial cancer into four molecular types: polymerase epsilon exonuclease (POLE), MSI-H, CN-low, and CN-high. It is important to separate the types of endometrial cancer because it affects the treatment plan and the prognosis. Identifying POLE and CN-low types requires sequencing, but there has been a problem in that it takes a lot of time and money to perform them.
Accordingly, the research team, led by Professors Kim Ki-dong from the Department of Obstetrics and Gynecology and Kim Hyo-jin from the Department of Pathology, conducted a study to find biomarkers that could distinguish the two types by protein immunostaining. Professor Park Tae-seong from Seoul National University's Department of Statistics also participated.
Following analysis of the 15 POLE and 76 CN-low tissues included in the TCGA data, the research team used four markers – BMI, cyclinB1, caspase8, XBP1 – to distinguish between POLE and CN-low types.
According to the team, BMI was lower than CN-low in the POLE type, and cyclin B1 expression was significantly higher in the POLE type, while caspase 8 and XBP1 were further decreased.
When the team examined the level of expression by immunostaining samples from patients who underwent endometrial cancer surgery at SNUBH from 2006 to 2013 for the marker discovered, there was no difference in the level of expression of cyclin B1 between POLE and CN-low types. Therefore, he showed the possibility of replacing sequencing analysis with immunostaining.
"This study is significant because it discovered a protein immunostaining biomarker that distinguishes POLE and CN-low endometrial cancer types for the first time in the world," said Professor Kim Ki-dong. "It is important to identify which molecular type a cancer patient belongs to, because identifying the molecular type of cancerous tissue is essential for a patient-tailored therapeutic approach."
Journal of Gynecologic Oncology published the results of the study.