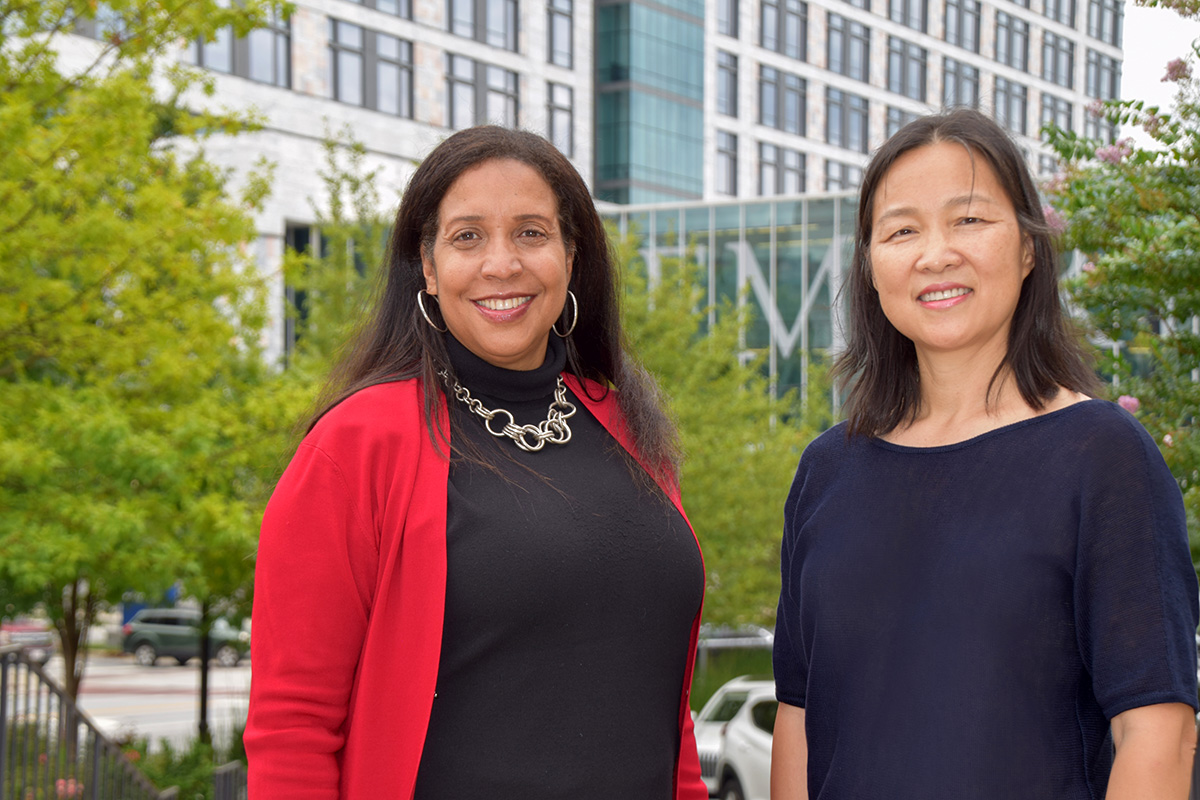 Understanding Oral Health in HPV-Related Oropharyngeal Cancer in People Living with HIV
Little is known about why people living with HIV have a much higher rate of oral human papillomavirus (HPV) infection and oropharyngeal cancer (OPC) than the general population. And it's not just people with an advanced, untreated HIV infection, known as AIDS.
"Even when they become undetectable, they still have difficulty managing HPV," says Lisa Flowers, MD, MPH, FACOG, director of colposcopy and anoscopy services at Grady Cancer Center and president of the American Society for Colposcopy and Cervical Pathology. . "They are doing better, but there are still challenges with managing the virus."
Supported by a five-year, $3.9 million RO1 grant from the National Institutes of Health, Flowers, co-principal investigator Canhua Xiao, PhD, RN, FAAN, associate professor at the University's Nell Hodgson Woodruff School of Nursing Emory, and their research team plans to enroll 500 people in the "Oral Microbiome and Periodontal Disease in Oral HPV Infection in People Living with HIV" study. The study will examine the associations between the oral microbiome, periodontal disease, and the immunological underpinnings of oral HPV infection in people living with HIV.
Researchers want to develop a better understanding of what contributes to the persistence of HPV infection in people living with HIV and move towards developing a way to determine who is at risk and how to prevent them from getting infected. develop a CPO.
"Where we haven't been able to do the best job, where we still have a lot of work to do," says Flowers, "is being able to detect HPV in the oropharyngeal cavity and having a test for screening that could actually catch cancer early on, where we can prevent it like we can prevent cancer of the cervix and anus."
Winship co-investigators include Deborah Watkins Bruner, RN, PhD, FAAN, Senior Vice President for Research, Robert W. Woodruff Chair in Nursing and Professor of Radiation Oncology; Timothy D. Read, PhD, professor in the Division of Infectious Diseases in the Department of Medicine and professor in the Department of Human Genetics at Emory University School of Medicine; Minh Ly T. Nguyen, MD, associate professor in the Division of Infectious Diseases, Department of Medicine, Emory University School of Medicine and researcher at Emory University Center for AIDS Research; Terry Hartman, PhD, MPH, RD, professor of epidemiology in the Department of Epidemiology at the Rollins School of Public Health at Emory University; and Vijayakumar Velu, PhD, assistant professor, Division of Microbiology and Immunology, Emory National Primate Research Center.
HPV and oropharyngeal cancer
HPV is the most common sexually transmitted infection in the United States. There is no cure for the virus. It is believed that approximately 26 million Americans have an oral HPV infection on any given day.
OPC is one of the most common squamous cell carcinomas of the head and neck in the world, and HPV causes approximately 70% of OPCs in the United States. HPV16 is the viral strain associated with 90% of HPV-associated OPCs. HPV16 is also associated with cancers of the cervix, anus and penis. More men than women will develop OPC, and non-smoking white men between the ages of 35 and 55 are most at risk, four to one compared to women.
Although there are commercial tests in the dental community, the value of these tests is unclear because a positive test for oral HPV on a particular day does not prove that the infection is persistent, which is the main concern. because most people eventually eliminate and develop resistance. to the virus. There are no visible oral signs of an HPV infection and no medication to kill it. There are also no established genital tests for men. Anal brush cytology tests are available for those who engage in anal sex, and these tests may be early predictors of anal cancers caused by HPV.
Oral microbiota and HPV
Researchers hypothesize that people living with HIV are more likely to have HPV and develop OPC due to the state of their oral microbiome. "The whole oral cavity, like the intestine, is full of germs," ​​says Xiao. "With HIV infection, it is likely that their oral microbiota status is different from that of healthy people."
Add in a higher incidence of periodontal disease in people living with HIV, and the picture becomes a little clearer. "Thinking of people who have periodontal disease," Flowers says, "you can imagine the environment of inflammation and other susceptibilities to infections that the mucosa, the oral cavity, can lead to an environment where HPV can easily settle down."
For this reason, researchers hope to get a sense of the relationship between periodontal disease and how it alters the protective components of the oral microbiome so that these components do not prevent virus persistence. Flowers says, "We're hoping we'll get some idea of ​​what inflammatory markers are contributing to the persistence of the virus or that might help resolve the infection."
Xiao adds, "While many factors contribute to inflammation, I think that's one of the reasons why we're investigating how the oral microbiome relates to inflammation and may be associated with these periodontal diseases and, subsequently to HPV infection as well."
Expected results
Flowers points out that the widely available HPV vaccine is the best prevention of these cancers in that it prevents HPV infection, preventing the persistence and development of OPC. She says researchers want to better understand which inflammatory markers contribute to virus persistence or might help resolve the infection.
Contributing to the development of a screening test capable of early detection of OPC, like the screenings available for cancer of the cervix and anus, is another of the objectives of the study.
"What we hope to do with this project," says Flowers, "is that by having a good understanding of what contributes to the persistence of HPV infection – which we know is necessary for carcinogenesis – then we could have an effect on decreasing cancer rates."
Flowers adds, "I think we're going to get a lot of insight out of this, and I think it's going to end up giving us a better way to understand the dynamics and maybe find important teaching points for our patients." take care of taking better care of the oral cavity. It could also lead to other agents that might fortify the microbiome and make it more protective – different things that might be able to step in to impact HPV infection.