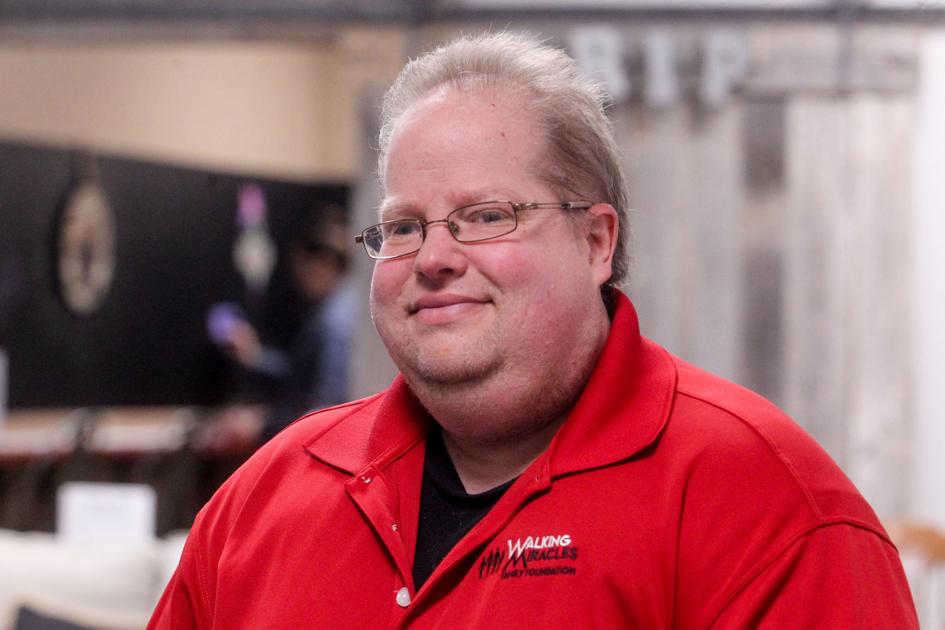 Walking Miracles Receives Grant To Continue Supporting Childhood Cancer Patients | Features / Entertainment
[ad_1]
HURRICANE, W.Va. – The fight against childhood cancer can be traumatic for children, their families and caregivers – and Brett Wilson knows it.
Born in Charleston in 1972, he was diagnosed with childhood acute lymphoblastic leukemia at the age of 2. Her earliest memories were filled with five years of radiation and chemotherapy.
The challenges posed by the disease itself and the drugs needed to treat it can take their toll, Wilson says, but there are other challenges that can hinder getting the best treatment available. The logistics of getting to treatment facilities and paying for travel expenses can be daunting, and many families don't realize how complex a journey awaits them until they have to walk it.
Wilson formed the Walking Miracles Family Foundation, a 501 (c) 3 nonprofit based in West Virginia, in 2012 to support caregivers, families and survivors affected by cancer in children, adolescents and children. young adults. Patient Navigators connect childhood cancer patients and their families to helpful resources and referral networks.
Wilson, a certified patient advisor and hub, along with Kacie Owens, a nurse navigator, serve as patient hubs at Walking Miracles to guide cancer patients, their families and their caregivers from initial diagnosis to the continuum of care. This ensures that caregivers and survivors have access to their referral networks of mental health and state programs, which can also provide financial assistance and support, access to school counselors and psychologists, and services. of travel, including discounted accommodations, restaurant gift cards and more – support Wilson and his family hadn't.
This year, Walking Miracles received a state sub-recipient grant from the West Virginia Department of Health and the Office of Public Health Human Resources through the Office of Maternal, Child and Family Health in working with the program for children with special health care needs to ensure patient navigation. services from diagnosis to the continuum of care.
The cost of travel is the biggest barrier to care in West Virginia, according to Wilson, so Walking Miracles implemented the Country Roads Travel Assistance Program, which has helped more than 250 families in 33 of West Virginia's 55 counties. . It also supports families living in border counties who come to hospitals and cancer centers in West Virginia for treatment when referred by a doctor. The Walking Miracles Travel Card pays for gas, food and accommodation. To date, the program has provided families with more than $ 250,000 in travel assistance over the past eight years.
Walking Miracles believes it is essential that all children and adolescents with cancer in West Virginia receive a survival plan and are connected to a survival clinic for appropriate follow-up, including education on relevant areas of treatment and about the long term side effects that can be expected. In order to accomplish the necessary follow-up, Walking Miracles is supported by Anytime Telehealth and E Care 21 to help healthcare providers and mariners monitor and document the needs of patients and survivors during and after treatment.
To learn more about the Walking Miracles Family Foundation, to ask for help, or to donate, visit www.walkingmiracles.org.
Founder Brett Wilson was diagnosed with leukemia at the age of 2.
At Marshall University, he obtained a bachelor's and master's degree in counseling in 1995 and 1998, focusing specifically on cancer patients.
His health brought him back to West Virginia, but the move unknowingly helped lay the foundation for a childhood dream that began in 1982: providing resources for families with cancer.
That dream came true in 2012 when Wilson founded the Walking Miracles Family Foundation, which offers travel reimbursement twice a year to families traveling for cancer treatment in West Virginia and surrounding states.
"Once you leave the hospital system, you're basically on your own until you have to go back to the hospital," Wilson explained. "We have found that the biggest barrier families face is travel. In West Virginia, the average journey for cancer treatment is two hours to Morgantown, Charleston or Huntington, and that typically takes three years.
Meanwhile, he added, about 38 percent of a typical family's income is spent on gasoline and housing for treatment.
Walking Miracles gives each participating family $ 250 twice a year. To date, the foundation has helped over 200 families in 33 of West Virginia's 55 counties and donated over $ 35,000 in travel assistance.
The name "Walking Miracles" was not chosen by chance either. That's what Wilson's grandmother once called it: a walking miracle.
And since then, a walking miracle has made it their mission to bestow as many little miracles as possible to those who are still on the journey it has taken.
[ad_2]